Well. I've found a stash of books that I got signed and never shared, so here's another edition of Check Out What I Got in the Mail!
I was trying to clean up the nightmare that is the stacks of signed books in my bedroom when I knocked some of them over and found this little gem. I vaguely recall that Susan had announced that for a short period of time [it might have been around Christmas] she was going to offer signed copies of
Angelfall
. I just happened to catch her tweet about it and ordered it right away.
Now I'm hoping she'll offer the same thing for
World After.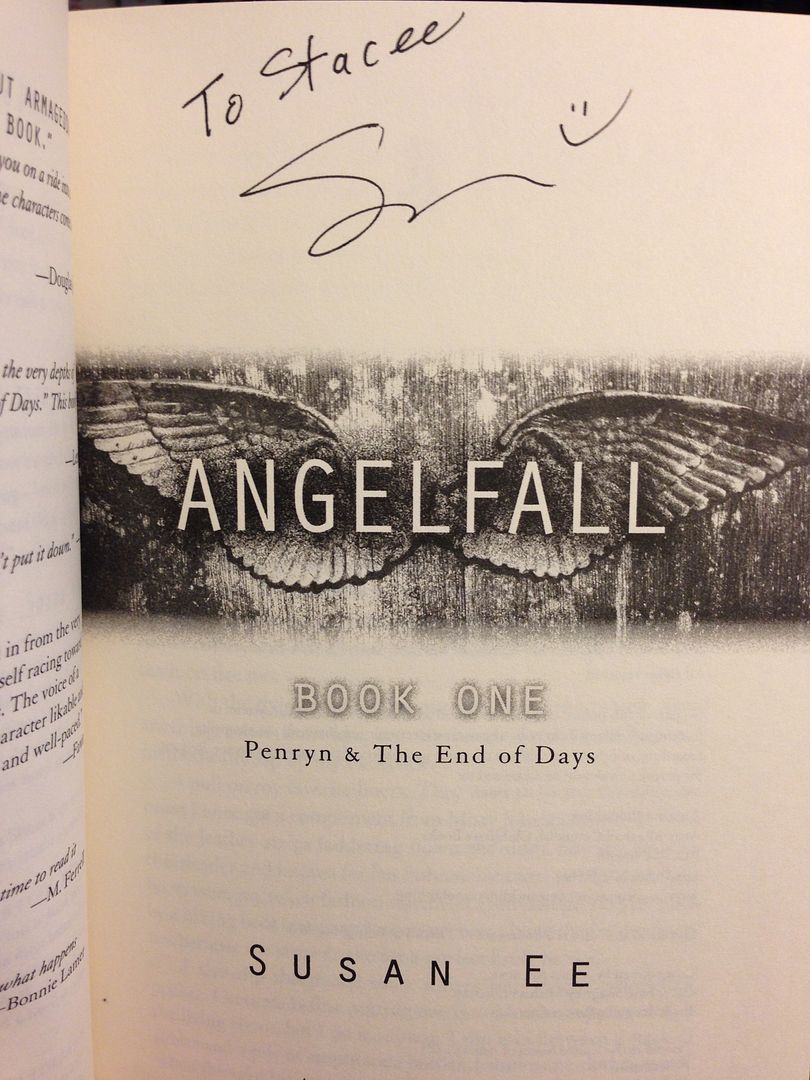 I'm not even sure how or where I heard about signed copies of Easy, all I know is that I'm super happy to have one. I do know that I got it from Tammara herself, before it was republished. And isn't it pretty?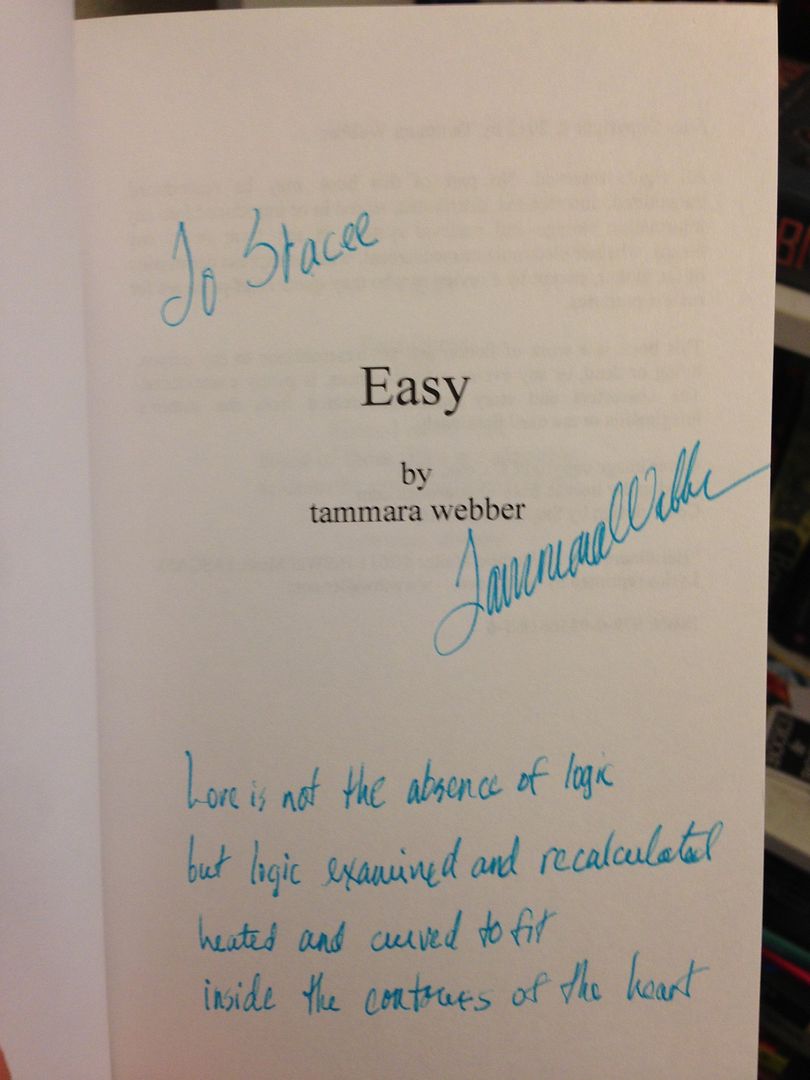 Underneath that book, I found my copies of
Obsidian, Onyx
and
Opal
that were signed by Jennifer L. Armentrout and Pepe Toth. Once upon a time, a group of blogger friends and I tried to get Jennifer to Redondo Beach as part of the
Daemon Invasion
. Alas, we didn't win. However, the lovely
Kassiah
was going to attend the event in the winning city of Houston and she was awesome enough to get me some things signed. Annnnnnd send me some super hot photos of Pepe. *cough*
Speaking of Jennifer, I read
Wait for You
right away when it was released as an e-book. I read Jennifer's blog post about it getting printed and how the first 10k of pre-orders would get a signed copy. Of course, I immediately went to pre-order, but there was no way of knowing if I was one of the people who would be getting a copy until I opened it. And here it is....
When Leaky Con was announced, there were so many authors I wanted to go see. Not to mention, Colleen and
Jennifer
. We didn't get a chance to go, but Jennifer was awesome enough to take some things to get signed for me. She even broke the only-one-book-per-person rule to get both of Lev's books signed for me!
Last but, never, ever least. I pre-ordered my copy of
A Darkness Strange and Lovely
from the bookstore that Susan Dennard had listed on her website. And as the release date got closer, I was eager to have the pretty finished copy in my hands. The inner squeeing got worse after Susan DM'd me to let me know that she had signed my book and couldn't wait for me to see it.
Flash forward a couple of days after the release date. I got a voice mail from the events manager telling me that she had sent my package out via media mail even though I had paid for UPS and she wanted to know how to get the refund back to me. Now this isn't a problem for normal people, but for me it is: I don't get mail at my apartment.
I called her back and explained my situation. Since I have a PO box, my apartment is listed as "vacant" and any mail I get will be refused and sent back to the sender. It doesn't happen often, but it has happened. She had tried to catch the postman, but wasn't able to, and with the book having a special inscription, there wasn't a way to replace it. I just had to wait.
Thankfully, it only took a couple of weeks instead of the almost month I was expecting. But the inscription? It was
definitely
worth the wait.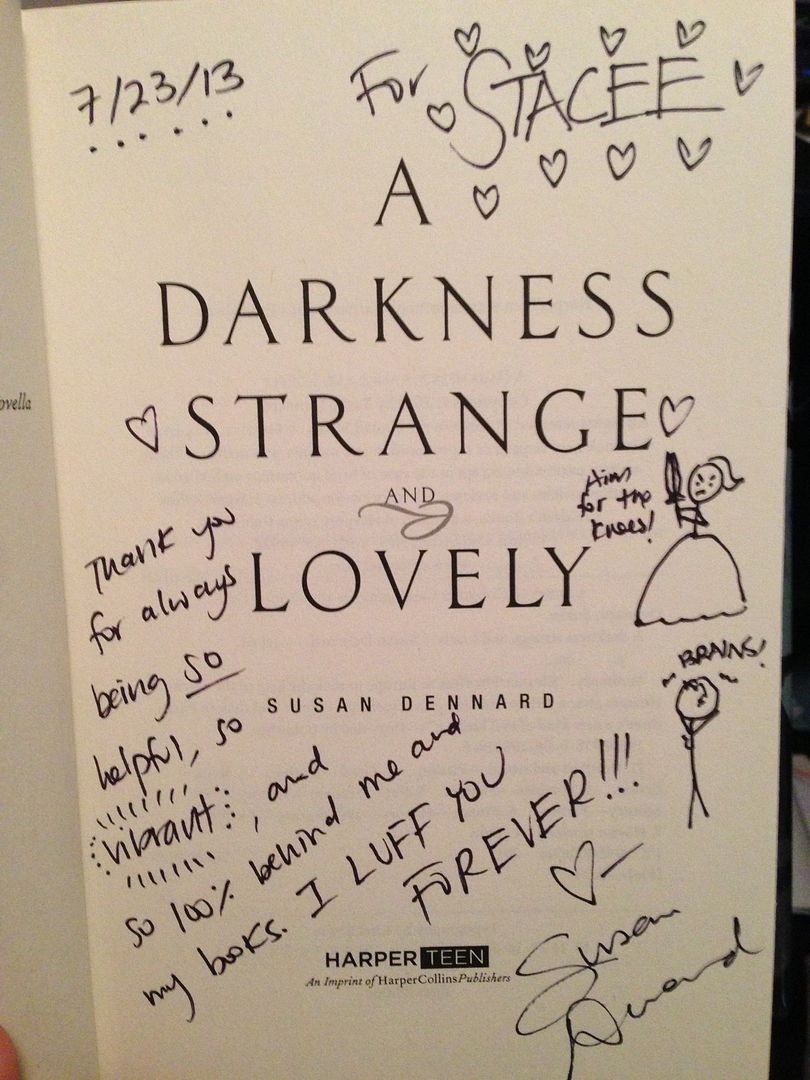 I would like to think I've gotten a little better at paying attention to the pretties I order. Have you recently found any books that you had forgotten about?