When the fall Pitch Dark Days tour was announced, I knew I was going to try and go. The downside? No SoCal dates. The upside? Vegas was listed as a stop. Vegas is close enough and I'm just crazy enough to drive over...
Hubs recently started a new job, so he wasn't able to take the time off to go. I had never taken the trip alone, but I was ready to do it.
On the day of the event, I gassed up and washed Lucy, bought some snacks, plugged in my iPod and hit the 15N around 10am. You think driving to Vegas is boring? Try driving alone. Granted, I was able to listen to my music as loud as I wanted. Around noon, I had made it to Barstow. AKA: the halfway point. AKA: where I can buy the delicious cherry licorice.
I bought 3 bags of licorice [much to the chagrin of the old trucker who was standing next to me] and a drink and got right back on to the freeway. I hit Vegas just after 2pm.
After checking into my hotel and getting in the room, I immediately ordered some room service, set up my laptop to scan and just hung out before needing to leave for the event.
I got to the bookstore around 6 and was disappointed to find they didn't have Crown of Embers available in hardcover. The event area was partially set up [chairs weren't out], but the backdrop of books looked amazing.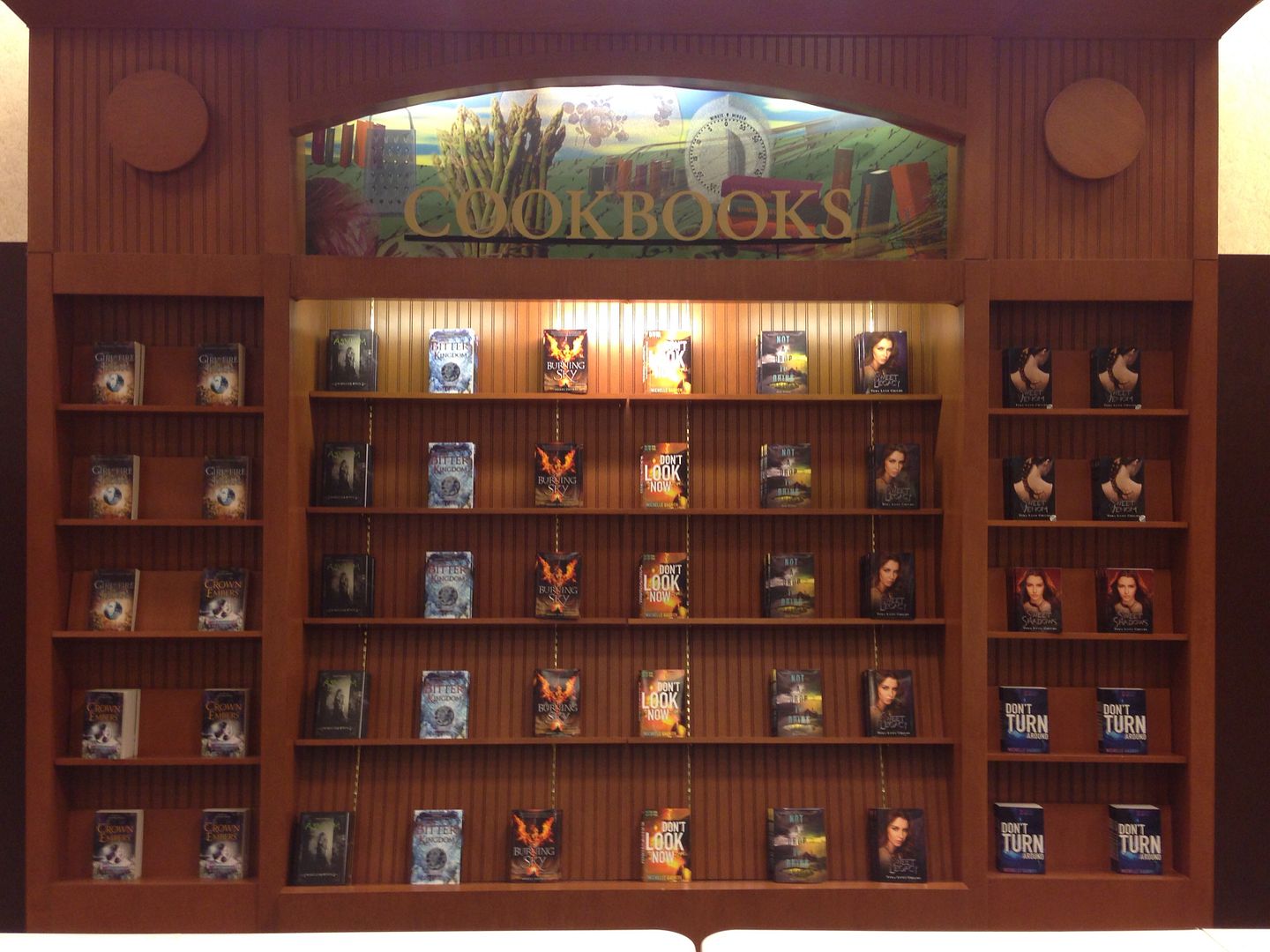 The event started just after 7pm with the announcement of the authors with special guest, Tera Lynn Childs. Each author did an introduction and a synopsis of their books.
S: My book is about cross dressing. I'll say that so you remember it. I wanted to do something like Harry Potter, but it's already been done and can't be done any better. So, instead of going to a magic school, my girl dresses like a girl and goes to a Muggle school.
R: I write epic quest fantasy, so if you like lots of traveling, this could be for you. It's like Game of Thrones for teens. Instead of Jon Snow, the MC is like Ugly Betty.
MM: My book is like Hunger Games meets Little House on the Prairie, in pants. The main character is basically sniping people right off the bat at 9 years old. There's romance, but not really. More shooting. It doesn't have unicorns. Or rainbows.
MR: My book has a young man who is pretty troubled, but smart and goes to a gifted summer course. He's with his people and they find out they're in a renovated asylum. Creepy things happen and there are really creepy photos inside.
MG: My MC is a 16 year old computer hacker who has set up her own life, but wakes up one day on an operating table. She ends up teaming up with a boy who is her opposite. Sort of like Girl with the Dragon Tattoo meets Bourne Identity.
T: The Sweet Venom trilogy is about 3 sisters who were separated at birth and adopted into three different families. The find their destiny to start fighting monsters.
What amount of research did you need to do?

MG: My biggest challenge was the hacking because I still can't figure out how to send email from my iPad. Fortunately, I have a friend of a friend who sent me to a white collar hacker who went through everything line by line. The only thing I added was the disease PEMA, I wanted it to be as real as possible and talked with a friend who is an endocrinologist.
MM: The survival aspect which is funny, because I pretty much live the way my MC does. Well, except for the shooting. I am a good shot, but I don't shoot people. I do grow my own food and can my own food and I do know how to skin and dress a deer. I had to research cholera. A lot about water born diseases and water purification.
R: It really helps to write about something that you already know about or something that you're so curious about. One of the most important things about writing is intellectual curiosity.
S: The school where my girl is cross dressing is a real school. It's Eton, the most famous boys school.
MR: One hospital had patients complaining about patient care. Found that people had been strapped down and left that way so long their skin was growing around the straps. A lot of the information I found couldn't be put in the book. I had to be mindful that it was happening to real people.
T: Set in San Fran, did 2 different trips to get a feel for the city. Everything that was explained was something that I actually went to. All of the mythology of monsters was found on a great website [that I didn't get]. For Medusa, there was a minimal reference point that I had to adhere to, but I gave the other side of the story.
The next question was who is your favorite author and why, but I was busy taking pictures and saving my notes, sooooo...
Something you like to snack on while writing?
MM: I write in bed so I don't snack.
R: I forget to eat when I'm writing and then I'll eat everything on the eastern seaboard. Now I set an alarm and force myself to walk away from the laptop to eat. Even if it's just a handful of nuts or something small.
S: Deadline cake. I will have an entire 4 layer cake in the fridge and will go through it all over a week or so. Sometimes, my husband will just bring one home so I don't even have to go to the store.
MR: Salt and vinegar chips. I will go through an entire bag without even knowing it. I have a towel to wipe my fingers off and I'll wipe down the keyboard too.
Who is one author that you have fangirled over?
T: Jaclyn Moriarty. She's an Australian author. I changed my flight so I could see her and got in line at 10 when her signing wasn't until 1 because I wanted to be first in line. [I can sooo relate to this]
MG: When my first book was coming out, Stephen King was the grand master of [some writing thing]. I bought a book and waited and started to get nervous. I wasn't sure what I should say to him. The only thing I could think of was to lean over and say "I bet you get a lot of creepy fans" and he actually reared back, signed my book and quickly waved me away to talk to Gillian Flynn who was behind me.
MR: There's a British documentarian I've been friends with on FB and did a book swap. One night after a bad personal night and being a bit inebriated, I sent him a message all about how handsome he was. I even started the message with I'm drunk and a hot mess. He was very British about it and said that he was flattered...
MM: I was in Chicago in June with some other Katherine Tegan authors. Had dinner with Veronica Roth and Michael Grant. Michael had friended me on FB and even blurbed my book. When I introduced myself to him, he didn't hear my name and asked what I was doing there. For a second, I thought that he didn't remember me.
R: Speaking of Gillian Flynn, she sat at a table across the way from me at an event and I was able to creep all over her. I finally went over there and got to get her to sign my book. I'd like to say that I walked away with my pride intact, but I don't remember what words came out of my mouth.
S: I am very secretive, so I will stalk people from a distance, but won't approach them. It's safer for them. I think I've read all of Maggie Stiefvater's blog, for the past 5 years. But she doesn't know it.
Question for Rae: Why did you choose to make your MC bigger?
I was dating a guy who was a douche nozzle. He would say things like are you sure you want to eat that? Or how many miles did you run today?
MG: Did you get backlash?
R: I've had some, but for the most part, some librarians have made it a discussion point. It's nearly impossible to get on a horse and travel for over a month and not have your body change.
MM: One of my favorite lines is something about how her thighs will always touch. My thighs touch and they always will.

[There was a lot more to this conversation, including an amazing comment by Madeleine, but I couldn't type fast enough.]
What is your writing process?
MM: I lay down in my bed and I start writing. I don't plot, I write linearly and then spend 6 months cleaning it up. I'll know the first line and the last line. There are some things that happened in my book that I didn't plan at all.
MR: I'll loosely outline, but usually by the middle of the book, it's veered off. Some of my best moments have been something that felt wrong.
T: I am a process whore. I force myself into reading process and plotting books. Deadline.
MG: A pantser, I usually have many books going at once. The only book that I completely plotted out was the only one I didn't sell. I think it's because by the time it was outlined, I was bored.
R: What I've figured out is that I like to think a lot and then write really fast. Ask me again in 10 years, I could have an entirely different answer.
The signing started just before 8. Crystal came over to thank me for driving over and introduced me to Jessie, who is a local author. Crystal said I could wait until the very end, since I had so many books.

When it was manageable, I started with Rae and Mindy first. Mindy recognized Erin's name and we started talking about how she did the video chat with Erin & Jaime. Rae asked if we had met before and I said that we met at ALA and talked about how hot it was in the convention center. She signed all of the many, many books I had for her.

One of the coolest things I've seen: Sherry had special "signed by" author stickers made for each of them. After the book was signed, each author put on their sticker.


Michelle was next. She hugged me and said that it was great to see me. We talked about her event at The Grove with Gretchen and how much fun it was. And whether I'd be going to Vegas Valley [yes] or her event at MGRB [probably].


And then Madeleine. We had been talking about her Halloween costume with Michelle while Michelle was signing my stack of things. Madeleine had been signing a different page from the title page because she only had a black sharpee. I had borrowed Tera's silver sharpee and asked Madeleine if she would use it. And hooray!!


Sherry was the last person I went to. I had arcs from Erin and Jaime to have signed. She gave me some awesome hand balm to send back to them. And then since I drove so far, she gave me a special prize that turned out being a fold up bag with the book title on it.

After I had everything done, I quickly gathered up my piles and thanked Crystal for everything. She talked about Vegas Valley and how I could sign up to help an author. Of course I asked if I could have a harem... She said no.

And off I drove back to my hotel and more room service. The Pitch Dark tour is always amazing and this set of authors didn't disappoint.