One day I had to stay late at work. With my phone about to die and no charger with me, I convinced my boss to let me leave for a few minutes to run across the street to buy a book to read.
Matched
by Ally Condie was on my Wish List and the first book I saw, so I grabbed it. And I devoured it in two days. Quickly did a search for Ally online to see what her book tour was looking like for the second book,
Crossed
.
Turns out she was doing a signing in Northern California that same night. I called the B&N and was able to ordered a signed copy. I also devoured
Crossed
and I can't wait for the third book to come out. Too bad it's released next year.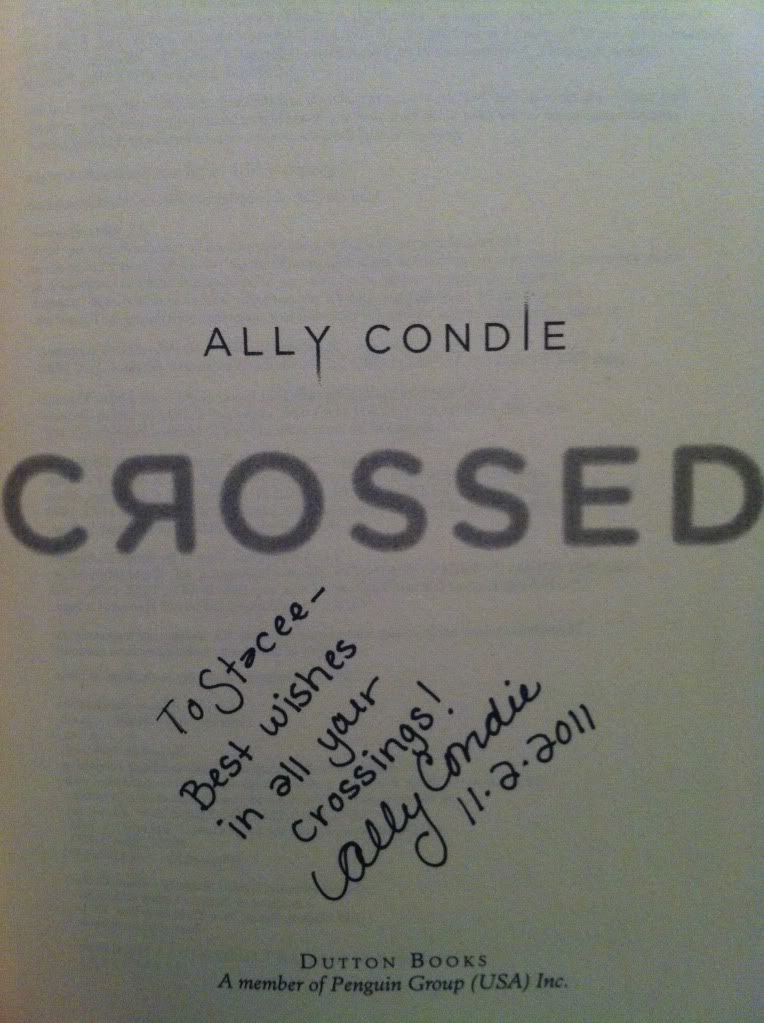 I learned about
Divergent
from the Swoontini site. One of the girls [I think it was Christina] was talking about how swoony Four was.
Their swoony recommendations are why my Amazon bill is so high.
Although, they did introduce me to Étienne St. Clair and Adam Kent, so all is forgiven.
So, of course I had to buy it. And when I did, I had to hunt down an autographed copy. I haven't read it yet, but I'm getting close to it. And I'll be ready to meet Veronica Roth when the next book in the series comes out.
I feel like such a d-bag when I find out authors live in San Diego and I am just catching on to it. Kiersten White is one of those such authors.
Paranormalcy
has been in my "to read" stack for a while. The second book in the series,
Supernaturally
came out this year. Have I mentioned that I'm really behind on these things?
I ordered a signed copy of
Supernaturally
from Mysterious Galaxy from a signing Kiersten did back in July.
July
. Where have I been? *facepalm*