It's time for another episode of Look What I Got in the Mail!
Do we all know my undying love and devotion for Tamara Ireland Stone? Yes, I
drove up to San Francisco
for the
Time Between Us
launch party. Annnnd since then, I've been simultaneously pushing
Time Between Us
on every single person I know and fangirling all over Tamara as much as I could without getting a restraining order.
Flash forward a bit. Tamara had a giveaway for an Italian copy with a super hot cover. That super hot cover had a shirtless version of my boyfriend, Bennett. So, it goes without saying that I entered the contest. Alas, I didn't win.
A week or so after the giveaway was over, Tamara DM'd me and asked for my mailing address, that she had a present for me. I had no idea what it was. When I got this, my head almost exploded...
Perhaps you've seen Elizabeth Richards talking about her love of owls. I sent her a package of owl post-it notes. Then I found some owl bookmarks. Before I sent the bookmarks, I asked Elizabeth if I could include my copy of
Phoenix
to have signed. And she's so amazing, she agreed! Check out
my
owl!!
It's unfortunate that I haven't met Elizabeth yet, but Penguin
better
will send her to SoCal eventually.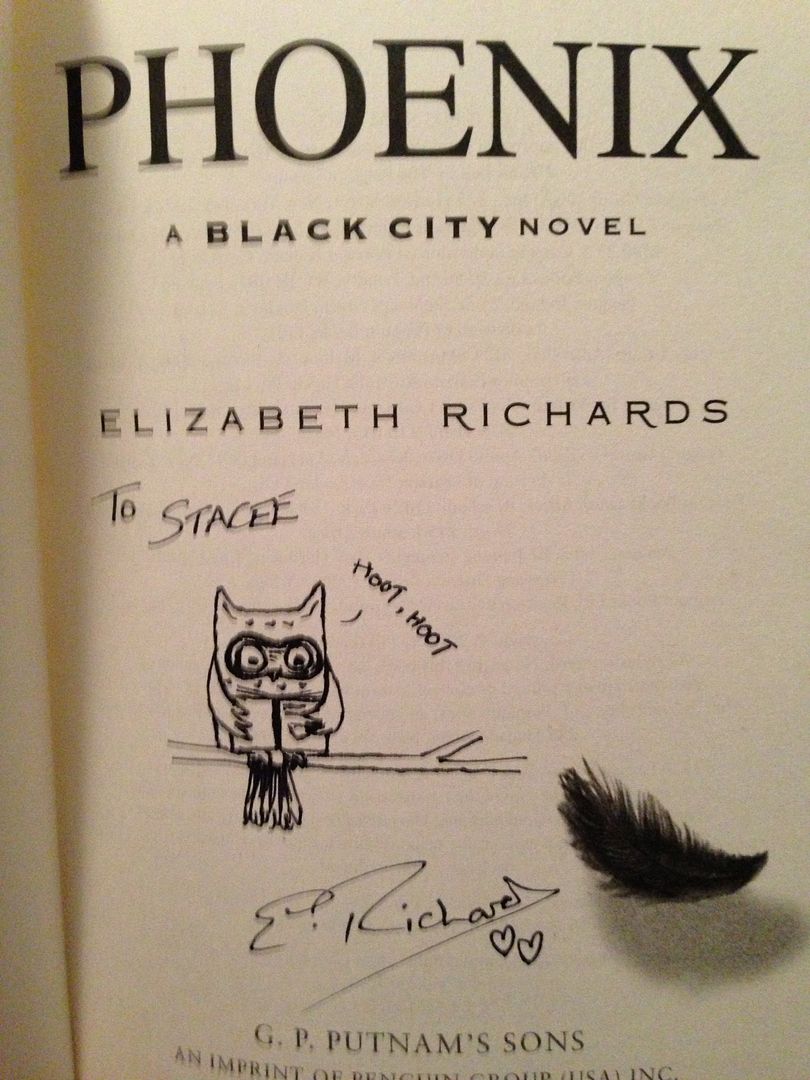 After reading
Spies & Prejudice
, I emailed Talia Vance and asked for an
interview
. After flailing about like a lunatic, of course. Not only did Talia take the time to answer my fangirling questions, she donated a giveaway copy for the giveaway. AND a personalized copy for me!
I will have to meet her eventually because I need to get it in writing that Tanner is mine. Never fear, I have a saved tweet. Don't be thinking that he's up for grabs, he is most definitely not.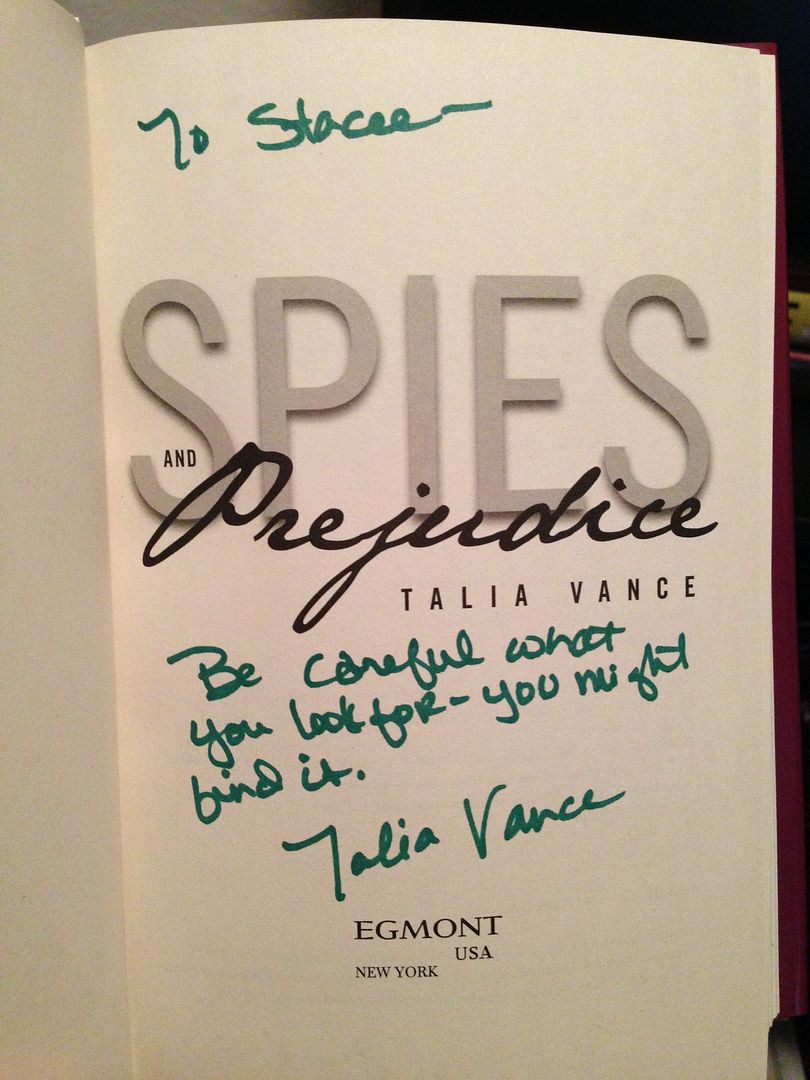 You might remember that I tried seeing Gennifer Albin at
Festival of Books
this year, but it didn't happen due to a scheduling mishap. I was absolutely bummed out that we had already left the parking structure when Gennifer tweeted me back and said she'd be happy to meet up somewhere.
Thankfully, Gennifer was joining part of the Pitch Dark Days tour and
Jenn
was going to one of the stops. She offered to take my books with her, so I sent them off.
When I saw that Neil Gaiman was touring, I tried to get tickets to see him. Unfortunately, I heard about it too late and tickets were already sold out. Thankfully, the awesome staff at
Changing Hands
bookstore had a mail order option. I am beyond thrilled to add Neil to my collection.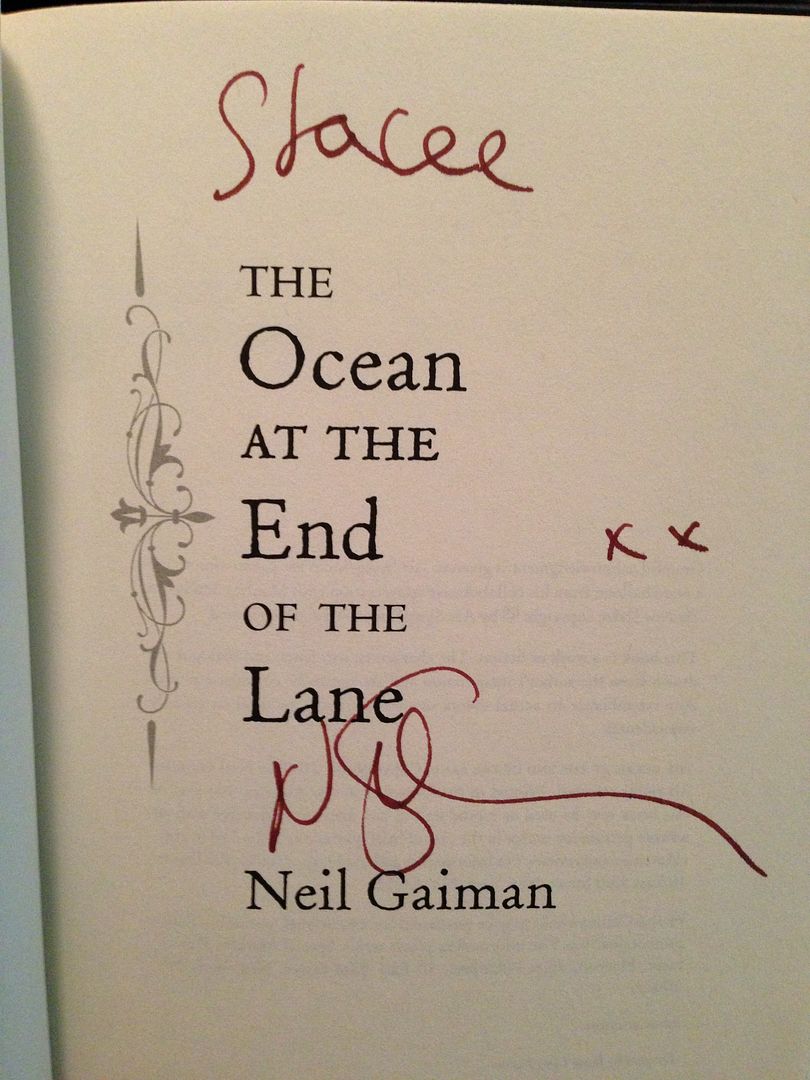 Who is a spoiled brat?!? It's meeeeeeee!!
What books have you gotten lately?