I fell in love with
Graffiti Moon
instantly. The lyrical way Cath Crowley tells the story of Lucy and Ed while they look for Shadow made me feel as if I was in the van, right next to them.
As soon as I finished the book, I first went looking for Cath's website to see if there was a chance to get a signed copy. After it seemed nearly impossible, I then went hunting for a copy with an Australian cover. Not that the US cover isn't pretty, because it is....
However, with just the lone, stark yellow spray can on a black background, I feel like the Australian cover embodies the entire book.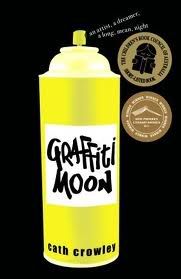 Now. Tracking down an Australian version was more difficult than I thought it would be. I found and emailed several Australian bookstores with online stores asking about the book and the possible shipping costs. All of the stores came back and said they would be more than willing to ship the book,
if they had it
. One store even told me to try to contact the publisher directly.
Slightly defeated, I posted something about my search on Twitter and included Cath in the post... We ended up having a delightful conversation about the different covers. And then she told me that I should enter the contest she was having on her website to win a copy of the book.
So, off to her website I went. And this is what I found:
"Write

one

line describing something that you love. Send it along in the comments section.
I'm thinking something along the lines of art or poetry or avocado on toast or gliding under water rather than that guy or girl on the bus who will not look at you no matter how hard you will them to with the power of your eyes, but really, who am I to judge? Send along any love that gets you through the day.
Write it in an interesting way, though, and we'll put the whole thing together as a full piece. The two loveliest loves get a book. Everyone else gets the good feeling of being words on a page.
And if no one enters, well, I'll write the piece myself. It will be much nicer the other way, though."
The line I immediately entered?
I love to smell the pages and feel the glossy cover of a brand new book, right before I open it to be transported to a new world.
Right after I entered, Cath tweeted me and and commented on how great my line was.
Flash forward to the end of the competition...
Out of the blue, I got an email stating "Cath Crowley is now following you on Twitter". 10 seconds later, I got a DM from her. Cath told me that while she loved my line and really wanted me to win, she didn't pick me because she felt like it would have been rigging the contest and then advertising it on Twitter. But that if I sent her my address, she would send me a copy of the Australian version because I loved the cover so much.
I was stunned by her offer, even more that she wouldn't let me pay for the book or for shipping. I gave her my address and Cath said it would go out in the mail right away.
I got the mail today... And here it is. Not only did I get a copy with the Australian cover that I am in love with, it was signed.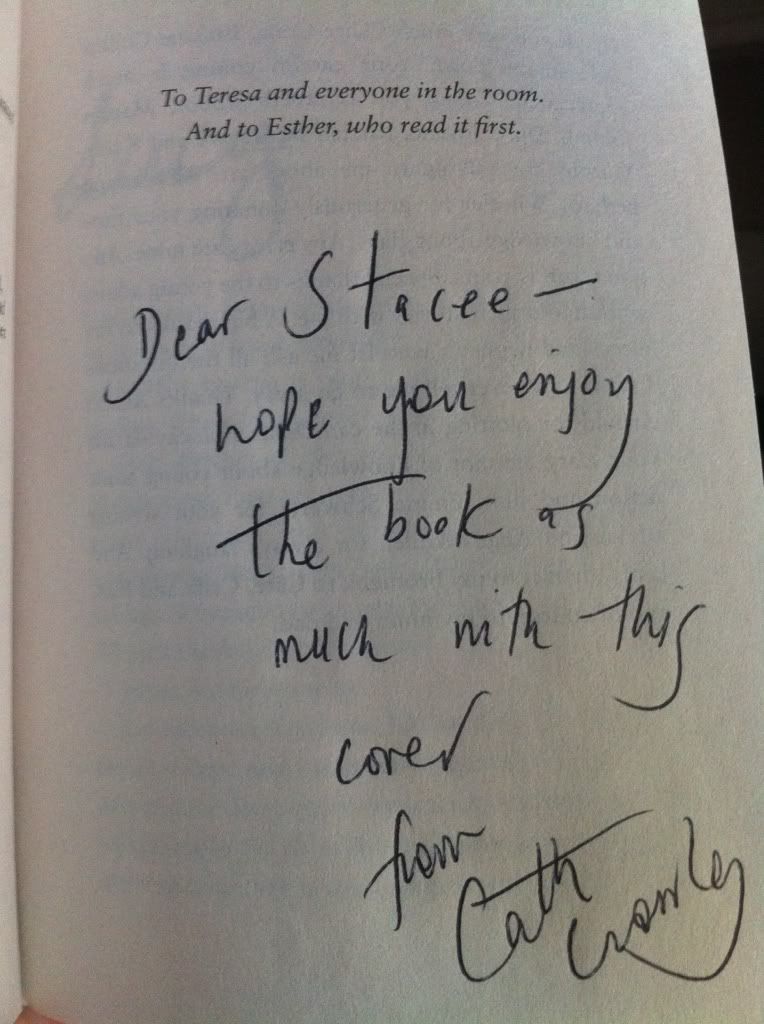 I have never been so floored... I just keep staring at it. I'm so so so so so excited and couldn't be more amazed at her generosity. Unfortunately, there wasn't a return address, so hopefully, Cath will see this post as my thank you/love note.