I admit to being way behind on the new releases in books. I had no idea wtf
Twilight
was and only started reading it because I didn't have the next book in the Kathy Reichs series I was reading. Yes, I had heard a lot about it, but my copy of
Twilight
just sat on my desk for a few weeks until that day...
Anyhoo, I had heard a lot about
Anna and the French Kiss.
A lot. I was searching for it on the day it came out in paperback and read it in one night. Of course I fell in love with the ever-so-swoony Étienne St. Clair. So, when
Lola and the Boy Next Door
was about to come out, I looked for any book tour dates that Stephanie Perkins was doing.
At the time, she was only signing at Malaprop's bookstore.
In North Carolina.
I sent off a text to my husband asking if we could go to a book signing over the weekend. He asked where it was. I answered "NC". As in the abbreviation for North Carolina.
Now, before I go any further, I feel it's important to mention that while driving across the country to go to a 1-2 hour event seems ridiculous to some, I can assure you that I have done things like this many, many, many times. In my world, it didn't seem all that impractical. Plus, the day she was signing was a Saturday. That means, we had plenty of time to get there and back.
Imagine my surprise when my husband said that he had no problem going and that it wouldn't take very long for us to get there. I think his answer was along the lines of "a few hours".
Another side note: I'm horrible driver. I speed. And tailgate. But, I knew that if driving to Denver took us about 15 hours, there was no way we were going to get to the other side of the country in a "few hours". When I mentioned that to my husband, he asked where exactly the signing was. This time I actually typed out "North Carolina".
The entire conversation, he thought I was using "NC" to abbreviate Northern California.
Needless to say, we didn't go. I ordered signed copies of both
Anna
and
Lola.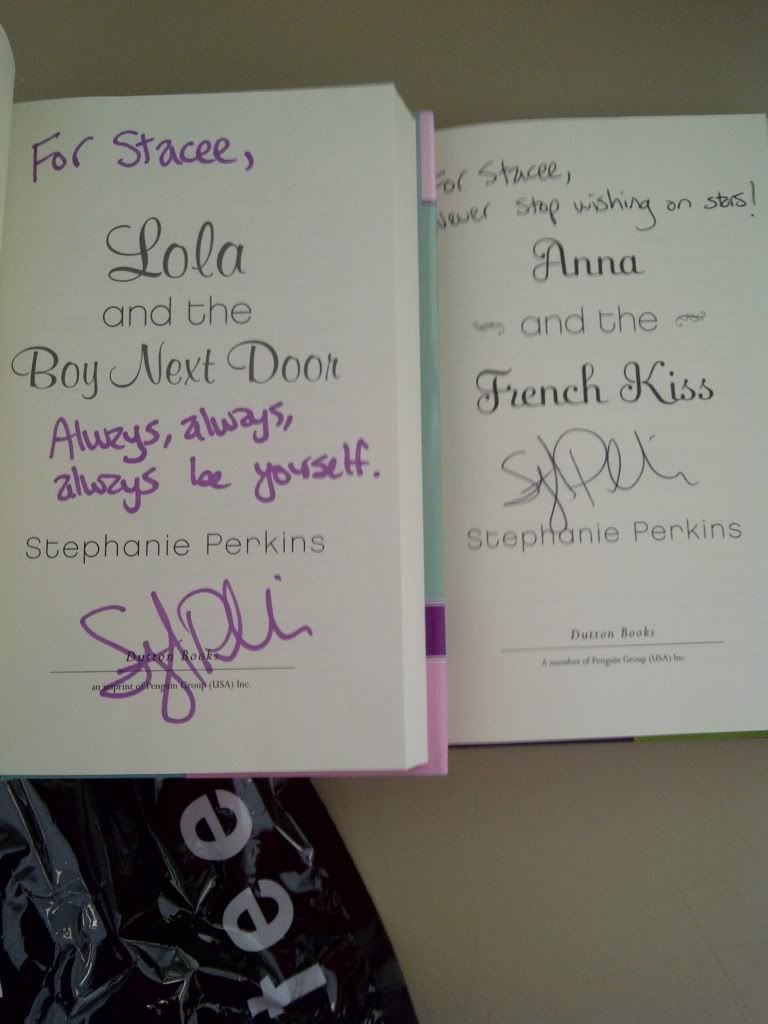 But, when
Isla
comes out. I'm gonna get to Stephanie Perkins somehow. Even if that means driving to North Carolina.