Welcome to another episode of Signed Books I Got in the Mail...
Sarah Dessen was announced at the 2013 Festival of Books. She also was going to be signing at the B&N in Huntington Beach over that same weekend. I didn't want to deal with the crowd that I knew would be flocking to her, mostly because I had never read one of her books. Thankfully,
Jenn
was going to be attending a Sarah event and was willing to pick something up for me.
I did send an arc of one of Sarah's books, but Hubs fucked up the address and it didn't get there. At all. So, Jenn came to the rescue and bought me a book! Now I can officially add Sarah to the collection.
When Elizabeth Norris announced that any pre-ordered copies of
Unbreakable
from Books of Wonder would receive special bonus material [including an alternate ending], I placed my order that day. A couple of days before the book was released, Elizabeth tweeted me and said that she had just signed my book. I didn't want to get my hopes up since BoW usually has a "no inscription/personalization" rule.
I shouldn't have doubted her because the inscription is glorious. Also? That means
every single copy
of
Unraveling
and
Unbreakable
that I own says that I have Ben. He is
definitely
mine.
[I would later also win a signed copy of
Unbreakable
from
Pitch Dark
for participating in the
Unraveling
read along.]
When
Eleanor & Park
was released, everyone and their mother told me to read it. The ever so awesome
Jaime
offered to get me a signed copy when she went to Rainbow's event. I think she ended up getting 11 copies or something...
Either way, I'm quite grateful she was willing to get me a copy. The book is amazing and I can't wait to meet Rainbow myself.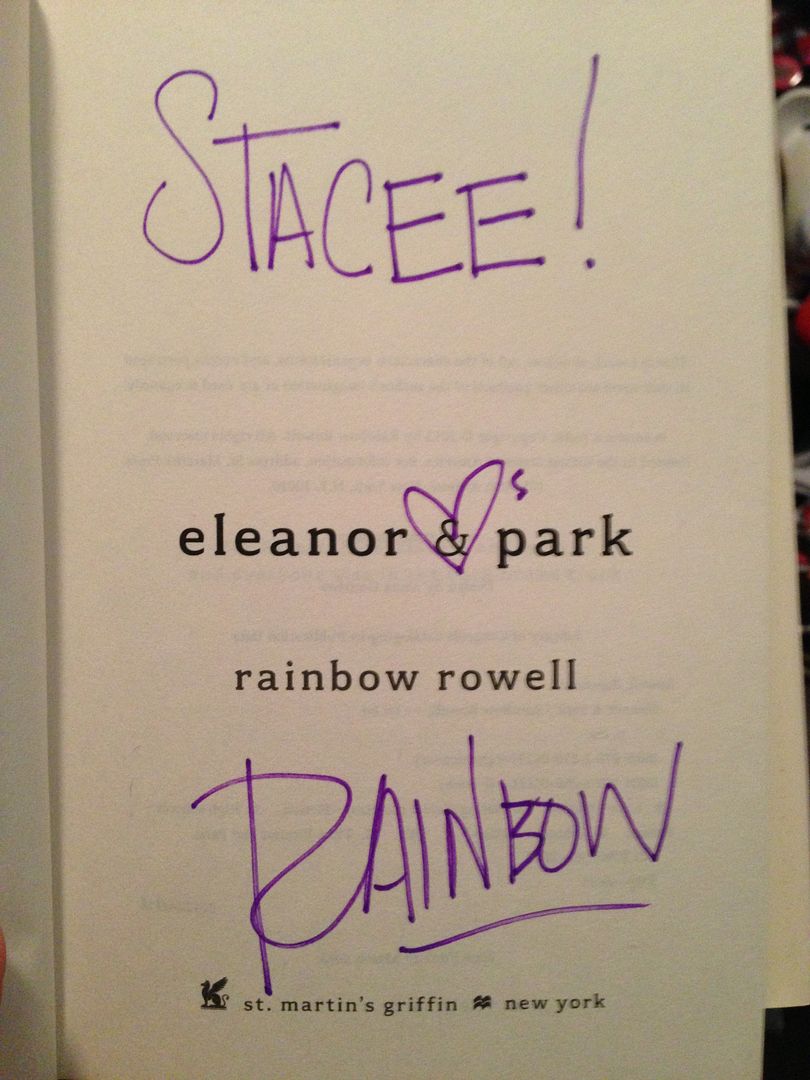 Jaime also went to the Pitch Dark Days event. I had already ordered Elizabeth's books [plus extra copies at her launch party, but that's another story] and was hoping hoping hoping that Amy Tintera would be doing additional events in SoCal. Her launch party was at the Bookstore-Which-Shall-Not-Be-Named and I refused to go.
However, Kiera Cass hasn't been to SoCal yet... Not one to wait, I asked Jaime to get me a signed copy of
The Elite
.
I had gotten my arc of
Invisibility
signed by Andrea Cremer when I saw her at Mrs. Nelson's for the
Breathless Reads
tour. When the tour dates were announced for Andrea and David to promote
Invisibilty,
I was unable to get up to the San Francisco date. Thankfully, Colleen was going to be attending the Seattle date. I sent the arc to her and asked for David's signature to be added.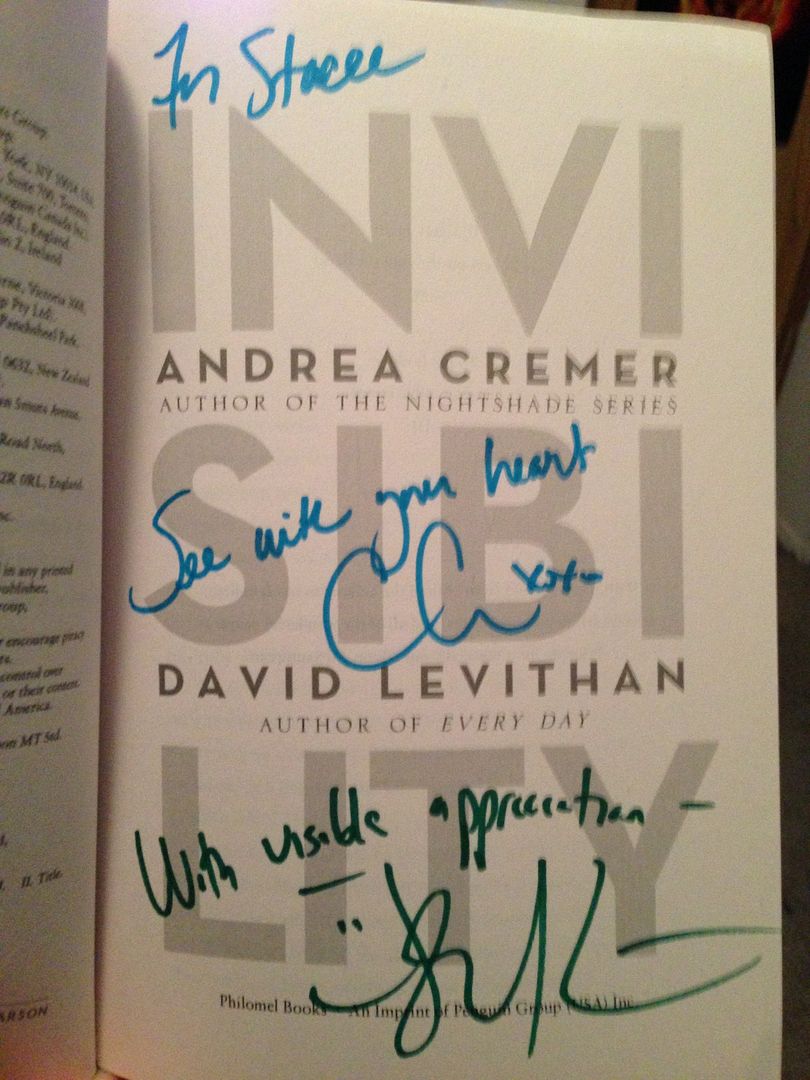 I truly have the best friends. And who's a spoiled brat? I am!
What books have you gotten lately?