After devouring
The Pledge
in one night, I went to Kimberly's website to see what else she had written and more importantly, when she was appearing. I found out that she had written the
Body Finder
series, which had been on my TBR list. Another set of books that I hadn't read, but was really interested in. From her website, I saw that she had one appearance listed... a bookstore in OR called Powell's.
I immediately went to their website to see if they had the first two books in the
Body Finder
series available in hard cover. They did. I then found Kimberly on Twitter to ask her if she would be willing to sign those books instead of
The Pledge,
even though that was the book she was promoting. As soon as I got her "of course", I emailed the bookstore to ask about placing an order.
The first email I got stated that no, they were not taking orders for any books other than
The Pledge
, since that was what Kimberly was there for. They did say that if I wanted the Body Finder books signed, I needed to show up for the event. I responded, asking if the policy might change as the date got closer, adding that I was in CA, so there was no way that I would be able to make it to the event myself. The answer back was a resounding no.
No, they would not take my order at that time.
No, they would not take my order at a date closer to the event.
I went back to Twitter and thanked Kimberly for her offer to sign the other books and let her know that Powell's wouldn't allow me to order them. I told her that I would get to her at some point when she toured for
The Last Echo
.
Enter Jennifer.
She had seen my conversation with Kimberly and offered to have the books signed for me, since she would be attending the event. As soon as I got her address, I had ordered copies and sent them to her house.
Fast forward to the day of the scheduled event, 1/16.
I get a tweet from Jennifer telling me that the event with Kimberly has been canceled due to all of the snow. She assured me that when the signing gets rescheduled, she will take my books to get signed.
My returning answer was that if she didn't return the books, I wasn't out that much money. Also, I was the one with her address. Kimberly also chimed in, saying that she felt horrible about the cancellation, but had already left a message for the events manager at Powell's to reschedule.
It was now just a matter of time.
The event had been rescheduled for 4/24. In the months that passed, I got some things signed for Jennifer and sent them to her. There was also a huge mix up with my pre-order of the third book in the
Body Finder
series. Through all of it, Jennifer has been amazing.
My books were delivered yesterday. Jennifer went above and beyond, including some signed bookmarks from Jill Hathaway and Lissa Price, as well as rubber bracelets and nail polish that promotes
The Last Echo
.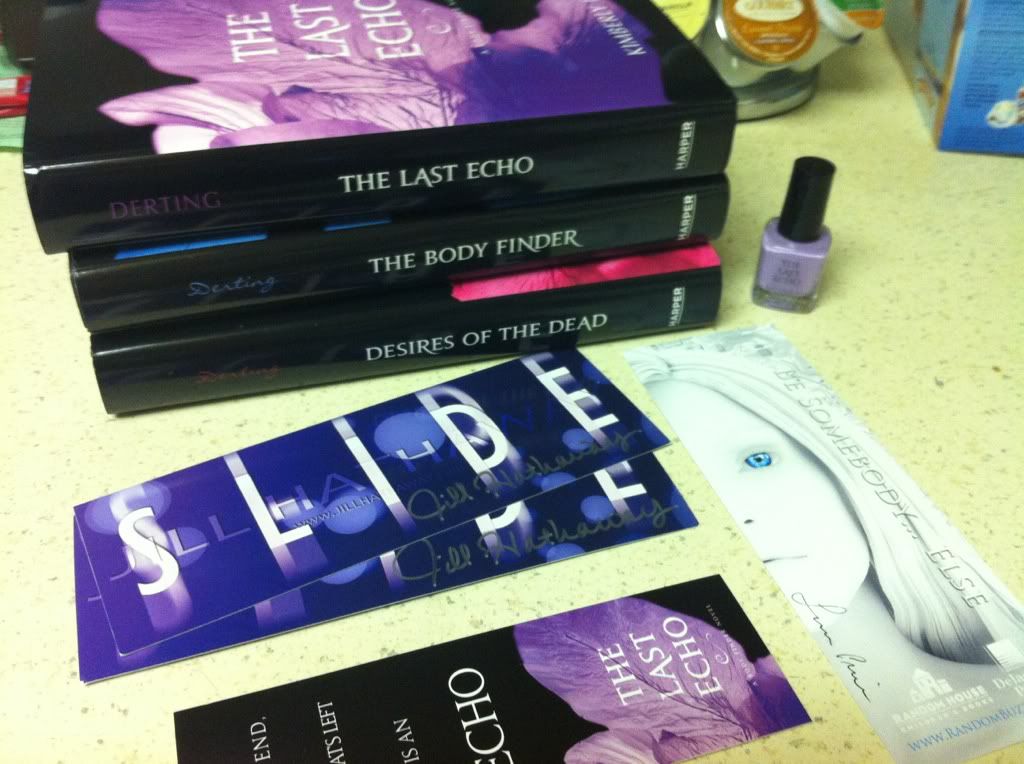 As for the books, they're perfect.
I'm extraordinarily appreciative for Jennifer and everything she did to help. Between the two of us, we have the west coast covered for any and all book signings!